How Physician Work Is Valued: A Coding Primer for Cardiothoracic Surgeons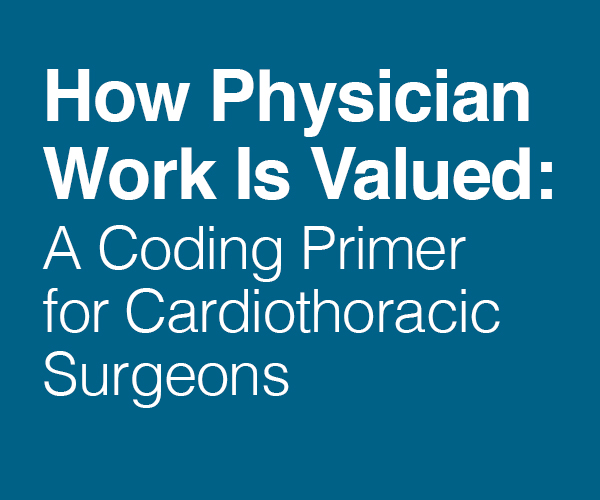 Activity Description
This 15-minute STS e-learning module presents an introduction to reimbursement and compensation models in cardiothoracic surgery. While primarily intended for trainees and early career attendings, the content is relevant to all CT surgeons.
Pricing
STS Members
$25
Non-Members
$35
Resident Member/Non-Member
FREE
Learning Objectives
Upon completion of this activity, participants should be able to:
Explain what ICD-10 and CPT Codes are and why they exist
Describe where CPT Codes come from
Explain how CPT Codes are converted into value in the form of Relative Value Units (RVUs)
Describe how the number of RVUs associated with a service are determined
Developed by the STS Workforce on E-Learning and Innovation
Led by Jeffrey P. Jacobs, MD, FACS, FACC, FCCP
Professor of Surgery and Pediatrics
University of Florida
E-Learning Modules are set to open in a new browser window.  
Once you have entered this activity, you will be reminded to enable pop-ups in your browser settings for desktop, mobile, and tablet devices.  
The module will register as complete once all items, including a post-test, are marked complete.